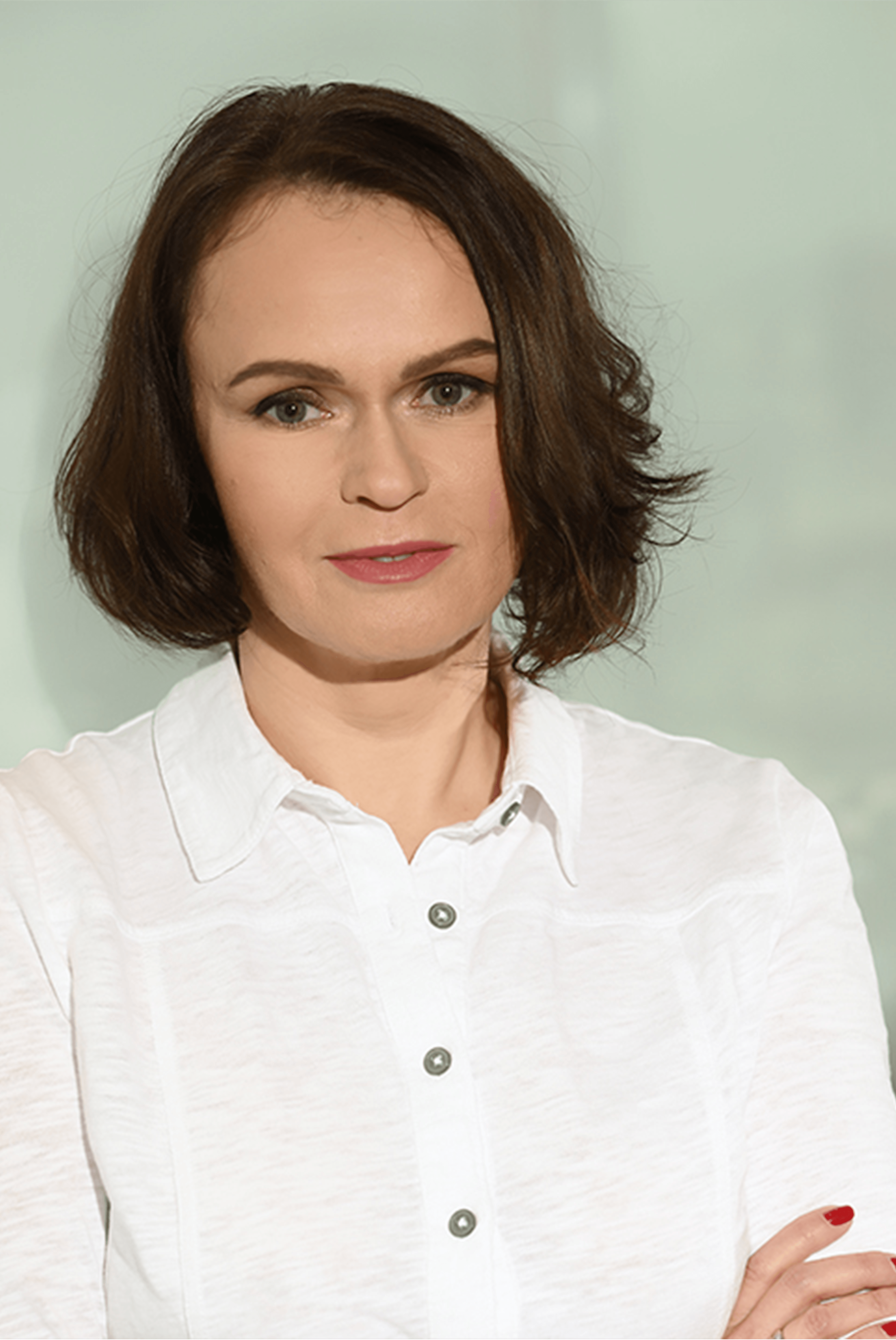 Małgorzata Sztejter
Executive & team coach, mentor and business advisor,
EMCC Senior Practitioner
Is a business advisor, coach and mentor. Combines the experience of over 20 years of work in managerial roles in international companies with the vision of people in organizations – their dilemmas and challenges related to their professional roles and reconciling professional tasks with personal life and personal development.
Her professional experience is divided into two paths: the first one connected with development of senior executives, HR strategy, executive recruitment and employer branding and the second one connected with communication, PR, marketing and business development.
For over 20 years she has worked in professional consulting companies and until 2021 served as a board member of an international law firm. She is a business consulting practitioner with over 15 years of experience, started her mentoring practice in 2016, and a coaching practice in 2017. Trained at the Kingmakers Academy and the British Academy of Executive Coaching. Her areas of focus are change management, developing effective teams, supporting key talents, communication and relationship building. She led marketing, business development and HR teams, dealt with customer satisfaction surveys and analysis of employee satisfaction and expectations. Co-created company strategy, organizational culture and customer care standards, Led recruitment for executive positions and supported the development of managerial teams with the help of various diagnostic tools (PsyTech, PRISM, Insight, Gallup Talents, Hogan Assessment, 360 degrees).
She also initiated and implemented a mentoring program in the law firm. Currently she is in charge of implementing mentoring programs in companies and social organizations, trains mentors and mentees and is a mentor in the SGH and Kingmakers™ HR Power mentoring programs.
As a coach she values partnership and deep commitment, is very matter-of-fact and analytical. She is characterized by great kindness towards people whom she accompanies through the process of development and change. She encourages self-reflection, helps clients see a different perspective, recognize their strengths & talents and challenge their beliefs and modes of action.
She is a graduate of the Polish School of Reportage (Szkoła Reportażu). Is passionate about non-fiction literature, conducts meetings with reporters and currently serves on the Program Board of the "Pismo" magazine. She believes that a good reporter and a good coach have a lot in common: both of those professions require a lot of mindfulness, the ability to listen and to avoid judgment as well as imposing your opinion. Is a lecturer at SWPS and EMBA at the Warsaw University of Technology Business School.
Areas of expertise
Executive & team coaching
Supporting change management
Developing effective teams
Communication in business
Relationship building and personal brand
On boarding: in a new job or a new role
Education, accreditations, professional qualifications
Certified Executive Coach (Practitioner Diploma in Executive Coaching™, Academy of Executive Coaching)
Psychology for coaches, Wszechnica UJ
Certified Kingmakers™ Coach (Experience Coaching Academy)
Currently preparing for an ICF and EMCC accreditation
Leadership Development Intensive (LDI) – Scherer Leadership International
Kingmakers™: On-board coaching; Gallup Talents; Trener coachingu i mentoringu biznesowego
NVC (non-violent communication) in business relations (NVCLab)
International PRISM Brain Mapping Practicioner Certificate
Professional experience
2021 – now executive & team coach, mentor and business advisor

2016 – 2021 CMS, Board Member, Chief Client Officer

2009 – 2016 CMS (CMS Cameron McKenna), marketing & business development director

2003 – 2009 PwC, marketing communication director

2000 – 2003 PwC, communication manager

1998 – 2000 Unilever Polska, communication & employer branding manager
Selected Clients
GEZE, PwC, Kompania Piwowarska, GlobalLogic, SAS Institute, Edenred, dentsu, OLX, Citibank, PMI, Resource Partners, Aviva, Cushman&Wakefield, Schenker Technology Center, ICSec, F/K Legal, ALTO, RTB House, Crido.